Agatha Raisin is a the title character in Agatha Raisin. She is portrayed by Ashley Jensen.
Personality
Edit
Agatha is a very fun woman and a bit depressed as in Quiche of Death she has a psychiatrist back in London.
Not much is known about Agatha's past.
Early Life
Edit
When she was a child she went to Carsely for her holidays and loved it, her parents wanted to go to Butlins because they hated Carsely. Agatha decided she will retire there.
Marriage to Jimmy Raisin
Edit
In her 20s Agatha was married to Jimmy Raisin who was good looking, drunk and always asking for money. She thought he died until he turned up on her wedding day to James Lacey.
Agatha worked as one of London's top PR's and represented many people for her company including popular band Boyhood, they were part of her last work as a PR. She retired in 2014.
In Series 1
Edit
In Agatha Raisin and the Quiche of Death, after Agatha moves to Carsely, she enters a quiche baking competition. Unfortunatley she cannot bake her own quiche and goes to London to buy it from one Spiros Economides (TV character). She enters it and loses to 6 time reigning champion Ella Cartwright (TV character), who secretly was having an affair with the judge. She gives her quiche away to the judge, but there is a twist, the judge eats it and dies of a plant only found in the Midlands. The police visit her and ask her to bake the quiche in front of them, but the only thing is she cheated. So she vows to clear her name and gets help from her friends: Roy, Bill and Gemma. She gets burgaled one day by boys on bikes.
Agatha turns from PR to PI and questions several townsmen.
At first Agatha thought after her questioning that Ella Cartwright's husband John Cartwright did it, but instead it was the wife of Andy Cummings Brown (TV character), Jo Cummings Brown and when Agatha goes to confront her backstage at the play she is planning, Jo admits it and tries to murder Agatha so no one knows she did it. But the police get there in time and save Agatha, putting Jo in prison. In the end Agatha decides to stay PI. Although she turns PR for a bit as the boys who burgled her wanted attention and that is why they burgled her.
In the Walkers of Dembley ,which is set 18 months after Quiche of Death, Agatha has developed an obsession for James Lacey, but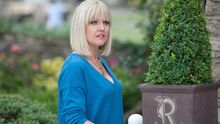 James has a girlfriend who with Agatha and James goes hiking.James and his girlfriend's relationship is strong, as they often have sex with each other. She goes home and finds an almost naked man and Roy in her home. A woman called Jessica Tarnick gets murdered and Agatha investigates, because she has been asked by one of the people in the group Jessica was in, Alice Dewhurst to investigate because someone she loves, Charles Fraith is being framed. She goes and investigates with James (Gemma and Bill at home) and they both pretend to be a couple. After questioning everyone, she gets tired and cooks dinner for her and James. The thing is James' girlfriend has come to town and James is having dinner with her, in front of the suspects! And so Agatha storms down and slaps James and takes him home. Then Agatha finds out the killer was and goes home with James, leaving the case to the police. Agatha sees James and Mary kissing each other and gets upset. In the end her and Gemma watch Khusan's naked yoga video.