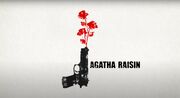 General Information

Title:

Agatha Raisin

Original Network:
Sky1
Original Run:
26 December 2014 - present
Episode Length:
40 minutes
Description:
Main Characters:
Similar Series:
Availability:
SkyGo, Now TV

Content Information

Rating:
Content Labels:
Violence:
It's a murder mystery and in the episodes if there is any injury it isn't very graphic.
Language:
Sexual Themes and Nudity:
In Agatha Raisin and the Quiche of Death, Andy Cummings Brown is a philanderer. Khusan appears almost naked in The Walkers of Dembley but buttocks and penis is not shown.
Drugs and Alcohol:
Crude Humor or Comic Mischief:
Ad blocker interference detected!
Wikia is a free-to-use site that makes money from advertising. We have a modified experience for viewers using ad blockers

Wikia is not accessible if you've made further modifications. Remove the custom ad blocker rule(s) and the page will load as expected.